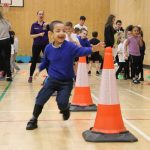 Our Vision:
Through Physical Education we aim to:
Improve and know what fitness, health and well-bring looks and feels like
Promote active learning and lifelong learning to learn well and live well
Encourage children to use a 'Growth Mindset' approach to challenge themselves in a safe environment to be the best they can be for their stage of development and learning.
Reduce Childhood Obesity.
Mission Statement
Primary Sports Premium:
From September 2013 every Primary will receive £8,500 (approx.) Primary Sports Premium funding. This has been budgeted for until 2020. The money is to raise and develop the delivery of PE in our school.
How will West Earlham Infant and Nursery School use this money:
Our school has bought into the school sports partnership (SSP). This enables children to attend multi skills festivals, keysteps gymnastics competitions, dance shows etc… SSP also provide continued staff development courses such as "warm up ideas", "invasion games" etc… These are important as they keep our staff updated with PE skills.
This funding has also been used to provide the very popular gymnastic sessions at the UEA Sports Park with highly qualified gymnastic coaches.
Further information on the impact that this has to children within our school and how we have spent this money can be found below:
Sport Premium Grant Spend Plan and Impact Ananlysis 16.17
See pictures of many of our sporting events on the website gallery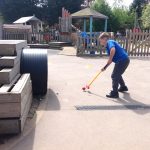 Sport Opportunities in our school include:
I can't do it  Yet Day
Sports Day
Empty Classroom Day
Weekly PE Sessions
Weekly Multi-skills Sessions
UEA gymnastic Sessions
Football Tournaments
Skipping Day
GB Athletic Fundraising day
Race For Life
Bikeabilty
Weekly Forest School Sessions for Years 1&2
Giant Walk
Adventurous Activities at our Year Two Residential
After School Sporting Clubs include:
Change4Life
Dodgeball
Karate
Active Games
Ktroo
Football
Netball
Ball sports
Walking Club
Line Dancing
Aparatus
Outdoor Play
Tennis
Cycling Club
Running
Tag Rugby
Zumba