Welcome from Head Teacher:
We think it is important that our school community helps us to improve. We are open and transparent about the work we do, including what we are really good at but also the things we try and improve on.
We think your views are important and want to hear them. If you'd like to comment on our improving school please:
Ask to speak to a school leader
Post on our Facebook page titled 'our improving school'
Bring your ideas to school and hand them into the office. Please mark it 'our improving school'
Share your ideas with your class rep for them to bring along to the next meeting.
If you have ideas as to how you can get more involved with improving our school we would really love to hear from you, please ask to speak to me. 
Binks Neate-Evans – Head Teacher
Our aim is for all of us to 'learn well, live well' 
Whole Team Improvement Plan – Aspiring for all
Our 'Whole Team Improvement Plan – Aspiring for all'  sits alongside our School Improvement and Development Plan and is based on and underpinned by our Values statement.  It is a sharply focused but yet fully dynamic approach to bringing about sustained improvement whilst energising and enabling our whole school community to be part of our improvement journey. The focus of the themes will always be based on what we believe is best for our young learners.
Our Four Main Improvement themes for 2017/2018 are, these are worded in such a way that both children and adults can understand the meaning of them:
High Expectations for all – Learning to be our best
Raising Aspirations with precise vocabulary – new vocabulary for great learning
Applying learning and skill based practice in the environment – independent learning
Reasoning and Critical Thinking – Excellent thinking
Our improving school aims (from our School Improvement and Development Plan):
Improving outcomes for children

To continue to narrow the gap between KS1/EYFS achievement in reading/comprehension/phonics, writing, Maths and national data; including disadvantaged children, those with the potential to exceed expectations and other statistically significant groups
To improve communication skills as vehicle for improving attainment across the curriculum including learning behaviours

Refine and develop teaching, learning and assessment

Continue to refine use of Formative Assessment as a vehicle for improving impact of teaching on learning outcomes. This must include improving use of questioning.
To review assessment policy in light of continual changes from central Government to ensure it meets local need but withstands external scrutiny to be fit for purpose.
Develop use of assessment of Age Related expectations in non core subjects
To use action research as mechanism for improving pedagogy (Teaching Approaches)
To rapidly improve high quality art curriculum and experiences for children and staff.
Develop Enquiry Based Learning in Key Stage 1.

Personal Development, behaviour and welfare

Develop whole school inclusion strategy to support children with additional behaviour and social, emotional and mental health needs
Further develop curriculum to support emotional literacy and learning to learn behaviours
To further develop psychological resilience of the workforce, to ensure children families and staff are well supported and staff have appropriate skill set and support
Further develop the use of Cpoms (webs based Safeguarding and Child Protection record keeping) to develop professional knowledge
To support children and families to adopt healthy lifestyles

Developing highly effective Leadership and Management

To further develop subject leaders role across school
To continue to develop effective professional partnerships in light of national legislation Governors
To continue to identify family and community barriers to success for children, and plan to mitigate against impact of deprivation
To develop strategies of leadership of SEN
Management of Financial pressures
To continue to develop a localised and aspirational curriculum
Recruitment and retention of high quality staff
Further information about the above targets can be found in our School Improvement and Development Plan, which is available from the office on request.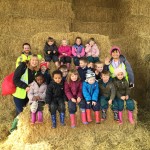 We will share our achievements with families through:
School Social Media pages (Facebook, Blogs, App and the Website)
Sharing good news with the Local external Media
Newsletters
Family/Class Rep meetings
During Learning Review Meetings through sharing children's work
Class Assemblies
We check that we are doing these things through:
Internal Methods:
Governor Meetings
Staff, team and phase meetings
Pupil Progress Review Meetings
Learning Walks
Book Looks
Family Rep Meetings
Discussions with Children/Children's work
External Methods:
School to School support
Norfolk Better To Best (N2B2) Visits
LA Report Card Data
Flying Start
ECP Report