'All children and young people are entitled to an education that enables them to make progress so that they: achieve their best; become confident individuals living fulfilling lives, and make a successful transition into adulthood, whether into employment, further or higher education or training.' DFE and DoH June 2014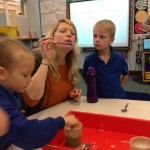 Vision and Aims
At West Earlham Infant and Nursery School, all children are valued equally regardless of their abilities, aptitudes, interests and behaviour. We are committed to offering and providing an inclusive environment. Each child is entitled to a broad, balanced, relevant and differentiated curriculum, with progression and achievement. However, some children experience considerable differences in learning at certain stages in their school life. The majority of children will learn and progress within the normal class situation, those who find it more difficult may have Special Educational Need/Disability (SEND). As a school we believe in ensuring all children succeed and provision is tailored to meet the varied needs of all children, so that all children whatever their needs or abilities make the best possible progress.
 At West Earlham Infant and Nursery School we ensure all children with SEND get the support they need.  This means doing everything we can to meet their SEND. We are an inclusive school and ensure through Quality First Teaching that all children with SEND engage in the activities of school alongside children who do not have SEND. Quality First Teaching that is differentiated and personalised (targeted at areas of weakness) will meet the individual needs of the majority of children and is the first step in responding to children who have or may have SEND. Teachers are responsible and accountable for the progress and development of the children in their class, including where children access support from teaching assistants or specialist staff.
The aims of our Special Educational Needs and Disability (SEND) policy and practice in this school are:
To identify at an early age, individuals who need extra help and attention
To enable each child to reach his or her full potential, both curricular and extracurricular
To endeavour to meet the individual needs of each child developing a feeling of self-esteem within the individual
To carefully map provision for all vulnerable learners to ensure that staffing deployment, resource allocation and choice of intervention is leading to good learning outcomes.
To use a variety of teaching strategies, which include different learning styles, to facilitate meaningful and effective learning for all children
To work with parents and other agencies to provide support and opportunities for children with SEND
To assist all staff in the delivery of educational entitlement and ensuring all staff are aware of a child's individual needs, through well targeted continuing professional development.
To "promote children's self-esteem and emotional well-being and help them to form and maintain worthwhile relationships based on respect for themselves and others". (National Curriculum, 2014)
Who to contact 
SENDCO – Sarah Mardell
Deputy Headteacher and Early Years Foundation Leader – Sarah Mardell
Headteacher – Binks Neate-Evans
SEND Govenor –Sarah Grenville 
The staff above can be contacted via the school office on 01603 451299. Sarah Mardell is also the designated teacher responsible for looked after children (LAC) and will therefore coordinate SEND provision for LAC in line with this policy.
For more information please read our SEND policy and our school's local offer. Both can be found via the links below.
Complaints related to Special Educational Needs and Disability will be dealt with in line with our Complaints Policy (which can be found on our Policies page)
West Earlham Infant and Nursery School Information Report:
Special Educational Needs and Disability (SEND)
This report has been co-produced with the children, families, governors and staff and will be consulted upon annually through family and learning meetings.
Publication Date:        September 2017
Review Date:               September 2018
Policy:
Special Educational Needs and Disability Policy 02.18
Publication Date:       February 2017
Review Date:               February 2018
Provision Map 2017/2018:
Accessibility Policy and Plan 2016-2019:
Publication Date:       February 2016
Review Date:               February 2019